Flakey, buttery crust topped with juicy apples and cinnamon streusel crumble then drizzled with maple vanilla glaze. This delicious slab pie is perfect for a party and amazing with a big scoop of vanilla ice cream!
A little life update. My mom and I have been canning like crazy the last couple weeks! So far we've made salsa, marinara sauce, pickle relish, pear jam, grape jelly, and apple butter. Or at least that's all that's coming to mind right now.
But honestly, I've never really done much canning until recently. My mom has been preserving food this way since I can remember, but I guess I never really took interest in it until I started to get older. But, I've been fortunate enough to spend the last month or so at home on the farm, and it just so happens to be canning season! Win.
Let's talk about the obvious, though. I feel like canning has a bad rap as being difficult; even I thought so. But turns out, it's fairly easy, just very time-consuming. Strong emphasis on very. The good news, though, is that there are so many recipes online and great canning books that teach you all you need to know. But, learning from someone is probably the easiest, of course.
If you're new to canning, I recommend starting with apple butter or pear jam! Both are extremely delicious and on the easier end. The fruit gets peeled, cored, and cooked down in a pan until tender, then you mix in sugar and spices, and if you're making jam, you also add a thickening agent called Sure-Jell. From there it gets poured into jars that get placed in a large pot filled with boiling water to process the jars and seal them for shelf-stable storage. Like I said, it's pretty easy, just takes some time.
To me, what's really fun about all of this is that everything we've been canning has come from fruits and vegetables we've grown right here on the farm! Along with our garden, we also have 3 pear trees and quite a few apple trees. We've been staying really busy.
P.S. If you've never made apple butter or even had apple butter, you're seriously missing out! It's soo good! I was eating it by the spoonful. Whoops. It's actually intended for toast, but I bet it would also be amazing on ice cream, in baked goods, or even cocktails. An apple butter old-fashioned sounds pretty great. Also, my dad put a pile of it on his vanilla yogurt today. Pretty genius idea.
But, onto other apple things. Apple Streusel Slab Pie to be exact. You're going to love it. If you're not familiar with slab pie, it's pretty much the same thing as a pie, but it's served in bar form. It's much thinner and is great for a party, large family, or just people who eat dessert after every meal. Cough, cough…my dad and brother.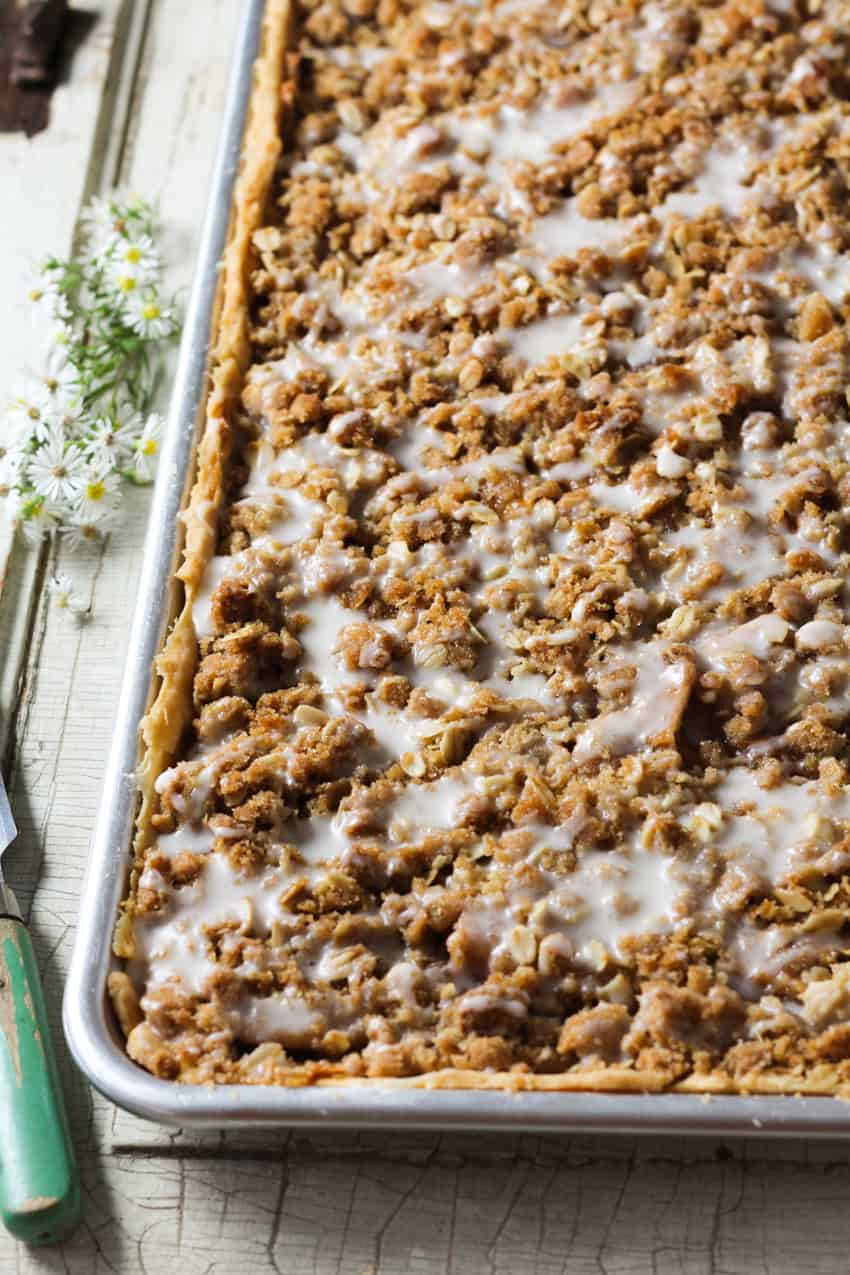 Just for the record, I know that this recipe looks a bit daunting, but it's sort of like canning… it's easier than it looks, just takes a little time. So do all the best things in life. Right? The good news is that the pie crust could actually be made a few days in advance, and if you've got yourself a 3-in-1 peeler, corer, slicer then you're golden! If you don't have one, you need one. It's a lifesaver during apple season.
Once you've got those two things taken care of, all you have to do is mix together the apple filling and the streusel topping. Both of which are amazing, even uncooked. You have to have serious self-control or you'll end up eating it all before the pie even gets assembled.
Once you get the beauty put together, you bake that baby until it's bubbly and the apples are tender. Then you seal the deal by drizzling it maple vanilla glaze. And, if you're anything like me, you'll go the extra mile and serve it with big scoops of vanilla ice cream!
More of my favorite desserts:
Apple Streusel Slab Pie
Flakey, buttery crust topped with juicy apples and cinnamon streusel crumble then drizzled with maple vanilla glaze. This delicious slab pie is perfect for a party and amazing with a big scoop of vanilla ice cream!
Ingredients
Pie crust:
2 ¼

cups

flour

1

tablespoon

sugar

½

teaspoon

salt

5

tablespoons

cold shortening

½

cup

cold butter, cubed

6-8

tablespoons

cold water
Apple filling:
10

cups

apples, peeled, cored, and diced

(about 4 pounds)

⅓

cup

granulated sugar

⅓

cup

brown sugar

3

tablespoons

flour

1

tablespoon

cinnamon

½

teaspoon

nutmeg

1

teaspoon

vanilla
Streusel:
¾

cup

granulated sugar

¾

cup

brown sugar

¾

cup

old-fashioned oats

¾

cup

flour

2

teaspoons

cinnamon

¼

teaspoon

nutmeg

½

cup

butter, melted
Maple Vanilla Glaze:
¾

cup

powdered sugar

3

tablespoons

maple syrup

1

teaspoon

vanilla

5-8

teaspoons

milk
Instructions
Pie crust:
Add flour, sugar, and salt to a food processor and pulse several times to mix. Add shortening and butter to food processor and pulse until shortening and butter are the size of peas.

Slowly add 6 tablespoons of water and pulse until the dough starts to stick together. Using your fingers, pinch the dough and if it doesn't stick together, add more water one tablespoon at a time until the dough just begins to hold together (I find 7 tablespoons of water to be the right amount for me).

Transfer dough from the food processor to a floured surface and form into a ball. Wrap with plastic wrap and place in the refrigerator to chill while you prepare the apple filling and streusel.

Preheat oven to 375° F and grease a 15x10x1 inch sheet pan and set aside.
Apple filling:
In a large bowl, mix together filling ingredients until apples are coated.
Streusel:
In a medium bowl, mix together granulated sugar, brown sugar, oats, flour, cinnamon, and nutmeg. Pour in butter and mix until mixture resembles coarse crumbs.
Assemble pie:
Remove dough from the plastic wrap and roll out on a well-floured surface into an 18x13 inch rectangle. Wrap dough around a floured rolling pin to transfer to the sheet pan (sometimes I find it easier to cut the dough in half and transfer in two sheets then press seam together in the pan). Press dough into corners of the pan and up the sides.

Spoon apple filling over dough in an even layer then sprinkle all over with streusel.

Bake for 45-50 minutes until apples are tender and pie is bubbling.
Maple vanilla glaze:
Whisk together maple vanilla glaze ingredients, starting with 5 teaspoons of milk and add more as needed until you reach your desired consistency. Drizzle glaze over slightly cooled pie.
Notes
Use a spoon to scoop the flour into your measuring cup and level off with a knife. 
If you don't have a food processor, whisk together dry ingredients then use a pastry cutter to work in shortening and butter then water. As a last resort, you can also use a fork.
Pie dough can be made ahead of time and placed in the refrigerator for up to 5 days.
Did you make this recipe?
I'd love to hear from you! Rate the recipe and leave a comment below or share a picture on Instagram and tag @ModernFarmhouseEats