Whether you're a deer hunter yourself or you're learning how to cook the deer meat that your spouse brought home, I'm here to share with you all of my best tips and tricks on how to cook venison!
My husband and I both deer hunt, and over the last few years I've honed in on the most delicious ways to cook deer meat.
Whether you're looking for recipes to showcase the rich and delicious flavor of venison or hide the "gamey" taste, I've got both for you! From roasts to stew, I promise you'll find a venison recipe that you love.
I made this yesterday and it was, hands down, the best venison recipe I have made to date. Putting it together was easy and having the oven on for the few hours needed left the house delightfully cozy and smelling wonderful. - Joellen, Beer Braised Venison Roast
I have just done this recipe for the first time and all I can say is WOW! My husband loved it as did I, the venison just melted in our mouths, it's definitely in my top ten! - Denise, Venison Steak with Mushroom Cream Sauce
What does "gamey" mean? Let's talk about it.
Compared to commercially raised red meat, deer meat can often be referred to as "gamey" because of it's strong flavor that most aren't used to.
What does "gamey" mean? Gamey is often used to describe the strong and rich flavor of wild game meat. It most certainly does not mean that the meat is bad or spoiled in any way. It's simply a term people use when discussing the more earthy flavor of wild game meat, such as venison, compared to conventionally raised meat, such as beef. After all, deer are wild animals that forage for food so the meat will naturally taste different.
For some, wild game is an acquired taste, and I love sharing recipe tips that tone down those wild game flavors so that even those that are new to eating venison (or those that don't partially enjoy the strong flavor) can still prepare and enjoy the meat that maybe their spouse harvested.
But on the flip side, I also enjoy creating recipes that enhance the natural taste of venison for those who truly enjoy its rich flavor! I enjoy both types of venison recipes, and I hope you will learn to as well, if you don't already.
Should you soak venison in buttermilk?
Freshly harvested venison can oftentimes have a stronger flavor, so if desired, you can soak tender cuts of meat, such as venison steak or backstrap, in buttermilk for a couple of hours, or overnight, to help tone down the flavor of the venison and draw out the blood. The acid in buttermilk also helps to tenderize the meat. Once you remove it from the buttermilk, give it a rinse and pat dry before cooking.
If the venison isn't freshly harvested (and it was properly processed), skip the buttermilk soak and simply add the thawed venison to a marinade or simply season with salt and pepper. Marinating venison will also help to remove "gamey" flavor while simultaneously adding lots of delicious flavor!
Unless you're someone who isn't a big fan of venison, I recommend skipping the buttermilk soak. Simply season or marinate the meat.
Do you cook venison the same way as beef?
Yes and no. Venison and beef are both red meat, so just like beef steaks, you also cook venison steaks quickly over high heat. And when it comes to larger cuts of red meat, like roast, you cook them low and slow.
But where things differ and get tricky is that venison is MUCH more lean compared to beef. For example, you know the nice fat marbling in your beef steaks, you won't find that in venison steaks. This is where marinating and cook times become ever so important when it comes to venison. If you overcook your venison steak, you'll be left with an extremely dry and tough chunk of meat.
But don't worry, cooking venison is quite simple when you have solid instructions and a decent understanding of venison cuts, and I'm here to help you with both!
How to cook venison
This is kind of a loaded question, so let's start by breaking it down. Just like any red meat, how you cook it depends on the cut.
How to cook tender cuts, such as venison steak or backstrap/loin
Tender cuts of meat are best cooked quickly in a piping hot skillet or on the grill.
You can simply pat the venison dry and season with salt and pepper before cooking, or you can marinate the cut of meat for a few hours or overnight. Personally, when it comes to venison steak and venison backstrap, I like to use a simple marinade to enhance the flavor of the venison without overpowering it.
Once your meat is seasoned or marinated, cook over medium-high heat until you achieve a nice sear on both sides. For the most tender venison, I recommend cooking to medium-rare or medium. If you're OK with a little pink in the center, you should avoid cooking venison steaks and backstrap to well-done, causing the meat to become dry and tough.
You can find my reader favorite Marinated Venison Backstrap recipe here or my popular Venison Steak with Mushroom Cream Sauce here.
How do you know when venison steak or backstrap is done cooking?
A meat thermometer is your best friend when it comes to cooking meat! I don't recommend cooking any tender cuts of any meat without it. Using a meat thermometer not only ensures your cooking meat to your desired doneness, but it also prevents the meat from drying out due to overcooking.
You can use a bluetooth meat thermometer that you are able to leave in the meat while it's cooking and monitor the temperature from your phone, or you can simply use a standard instant read meat thermometer. Both work great and will allow you to achieve the same results!
How to cook tough cuts, such as venison roast
Large, tough cuts of venison are best cooked low and slow to break down the connective tissue, resulting in fork-tender meat! When it comes to roast, you can leave it whole or cut into smaller pieces for stew.
My Beer Braised Venison Roast is my absolute favorite way to cook venison, and it's a recipe that's loved by not only my family but also so many readers! My Hearty Venison Stew is also one of my go-to recipes!
Searing venison
Two of my favorite ways to cook venison low and slow is in braising liquid or making stew! But first and foremost, you want to first sear the meat to create a nice crust, adding lots of flavor and locking in the moisture! Since the venison will absorb lots of flavor from the liquid it slowly cooks in, I like to keep things simple and just season the meat with salt and pepper before searing. You'll simply sear the meat over medium-high heat in oil or butter until you achieve a deep brown crust on all sides, about 5-10 minutes is all you need.
Braising venison
When braising venison, always make sure there's enough liquid in the pot so the meat doesn't dry out. You don't want to completely cover the meat with liquid, but you should use enough liquid to come halfway to three-quarters of the way up the meat. Also important is the braising liquid that you are using. I like to use a combination of broth, beer or red wine, fresh herbs, and some kind of acid, such as apple cider vinegar to help break down the connective tissue. Check out my Beer Braised Venison with Carrots and Mashed Potatoes recipe post for even more tips and tricks!
Slow cooking venison
Stew is also a great way to slow cook venison roast. This process takes less time than braising because you're using smaller chunks of meat that are slowly cooked in lots of liquid. I love to slow cook my stew in the oven, but you can also make it in a slow cooker or Instant Pot. You can find all three methods in my Hearty Venison Stew recipe!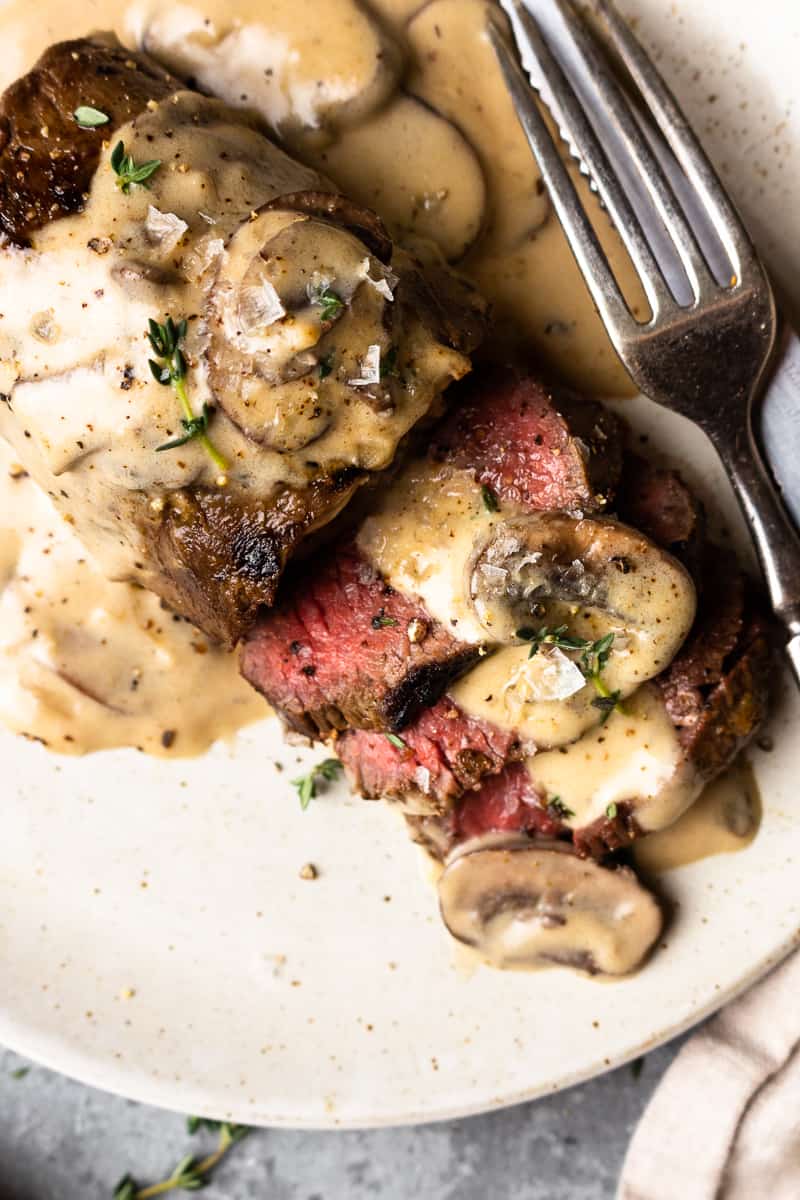 How to use ground venison
Ground venison has so many great uses, but I especially enjoy using ground venison to make juicy venison burgers, cozy venison chili and tender venison meatballs for spaghetti!
Venison is very lean, so when using ground venison to make things such as burgers or meatballs, it's important to incorporate some extra fat.
When it comes to venison burgers, I like to add finely chopped raw bacon to my burger meat or cold shredded butter. The bacon melts into the burger, and from a texture standpoint, you won't even know it's there. It makes the burgers nice and juicy and also adds a little extra flavor! Alternatively, you can shred frozen butter using a cheese grater and mix that with your ground beef before making your burger patties. Both are great ways to incorporate fat, resulting in juicy venison burgers! You can find more details in my venison burger recipe.
Another option is to mix ground venison with ground pork, which is naturally more fatty. You can do a 50/50 ratio or a 75/25 ratio with more venison than pork. I like to go this route for my venison meatballs.
Lastly, when making things like chili or spaghetti using ground venison as is works great! Simply season the ground venison with salt and pepper, then cook on the stove until nicely browned.
Kitchen Essentials
Meat thermometer. This KEY to cooking juicy (not dry) venison is to use a meat thermometer! Using a meat thermometer to check the internal temperature of any meat is a game changer! You can ensure you don't undercook or overcook the meat. You'll be impressed how much better it tastes when it's cooked to the perfect temperature!
Cast iron dutch oven. I like using my dutch oven to make roasts, stews, braise meat and bake crusty bread! They're so versatile!
Cast iron skillet. Perfect for getting a nice and even sear on venison, whether it's backstrap or venison burgers! All around, just a great pan for making anything on the stovetop.

Enameled cast iron skillet. Again, I love cast irons with an enamel coating because they're easy to clean! You can use soap and you don't have to worry about it rusting.