Thick and tangy blueberry lemon bars with a buttery shortbread crust, rich lemon curd filling, and fresh blueberries on the top! Simple yet delicious dessert.
Is it just me or does the thought or sight of things like lemon bars, pickles, grapefruit, etc. make your mouth start to get all tingly and watery?!
That citrus and that vinegar just get to me! It just packs so much intense flavor. But, I sure do love it.
But, before we continue to about these bars, can we talk for a minute about how it's almost my birthday! I'm going to be freakin' 27 years old on July 1st. I know to some that's young, but for me, it's a big deal because I'm that much closer to 30. But, I'm dealing, and I'm determined to make it a great year!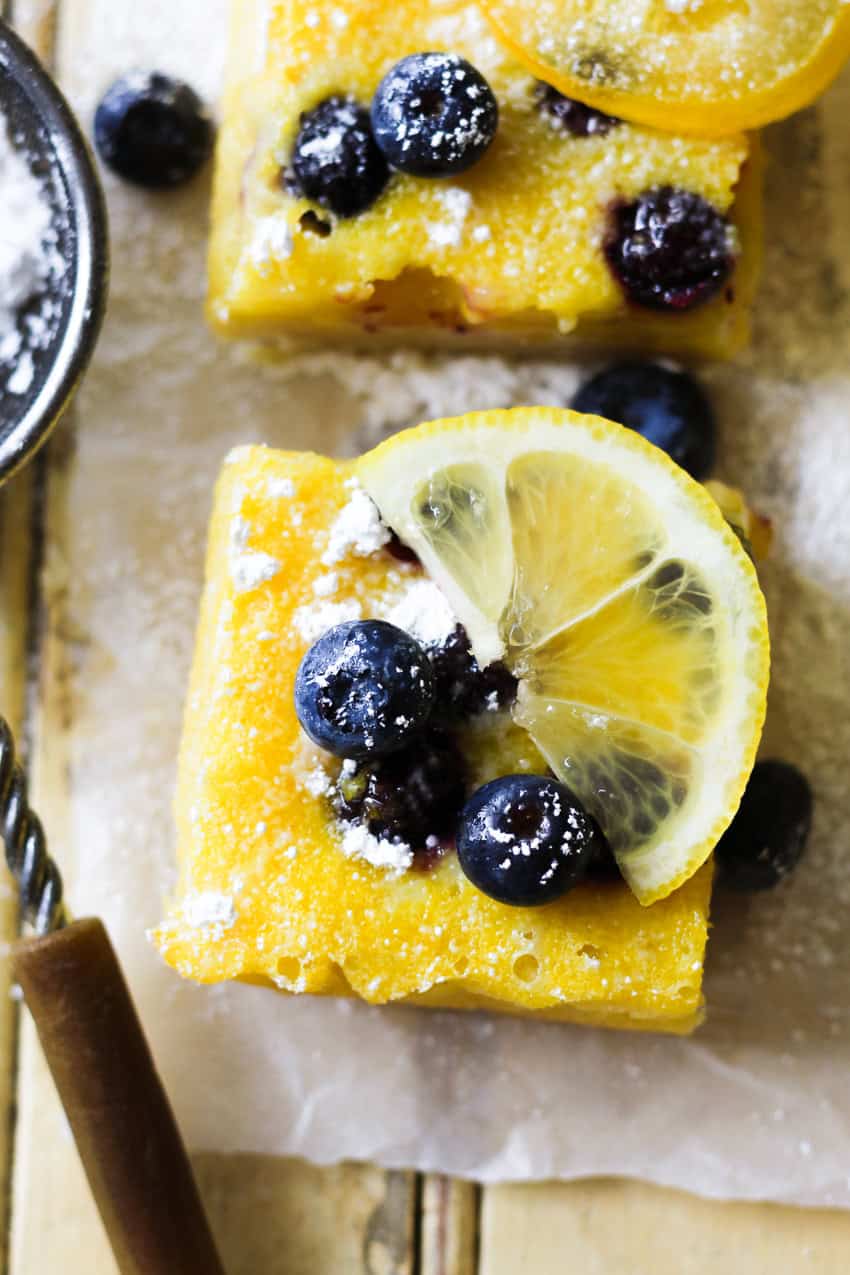 Through high school and college, I would always celebrate my birthday at a friend's cabin with a bunch of friends, including my brother, Derek. We were friends with two siblings.
Being that my birthday is so close to the Fourth of July, it usually worked out that my birthday weekend would be the same weekend the Fourth was celebrated. This meant more people on the lake and a bigger party. I'm all about that.
In the middle of the lake, there's a sandbar that all the boats pull up, and then we pretty much party all day. Sometimes, there's even a band on a boat! It's great.
Anyways, it's been a few years since I've celebrated my birthday up there, and guess what, this year I'm back, baby!
The group may be smaller because let's face it, everyone is growing up, getting married and starting families, but there's still some of us slackers that are still up for a good time!
When it comes to food, I'm obviously going to be bringing along my summer staples. Hello, Homemade French Onion Dip and Creamy Arugula Summer Pasta Salad!
My mom has been making this pasta salad since I was a child, and it's always remained a family favorite. And, well, a favorite among every other person who's had it.
As for the onion dip, that's a newer addition to our recipe collection, but one that will be around for many years to come. I promise you, it's better than any onion dip you can every buy at the store.
But, the best part? Both recipes are easy to make!
Maybe I'll even throw in some Thick Blueberry Lemon Bars for dessert 😉 And, on that note, let's talk about these bars, shall we?
The crust. I just love the crust on desserts, don't you? So flaky, buttery and delicious, and this crust is no different. It's loaded with butter, just how I like it, isn't too sweet, and takes like a shortbread cookie. Plus, it's nice and thick, and the cornstarch makes it perfectly tender.
So top that puppy with blueberry lemon custard and you've got yourself a really tasty dessert. There's something so perfect about when sweet meets tart citrus.
The filling requires only a handful of ingredients, most of which you probably already have in your kitchen, keeping things real simple.
Even better, the custard has just the right amount of sweetness and tang and holds together perfectly when sliced. As for the blueberries, they add a touch of freshness that we can all appreciate!
More of my favorite desserts: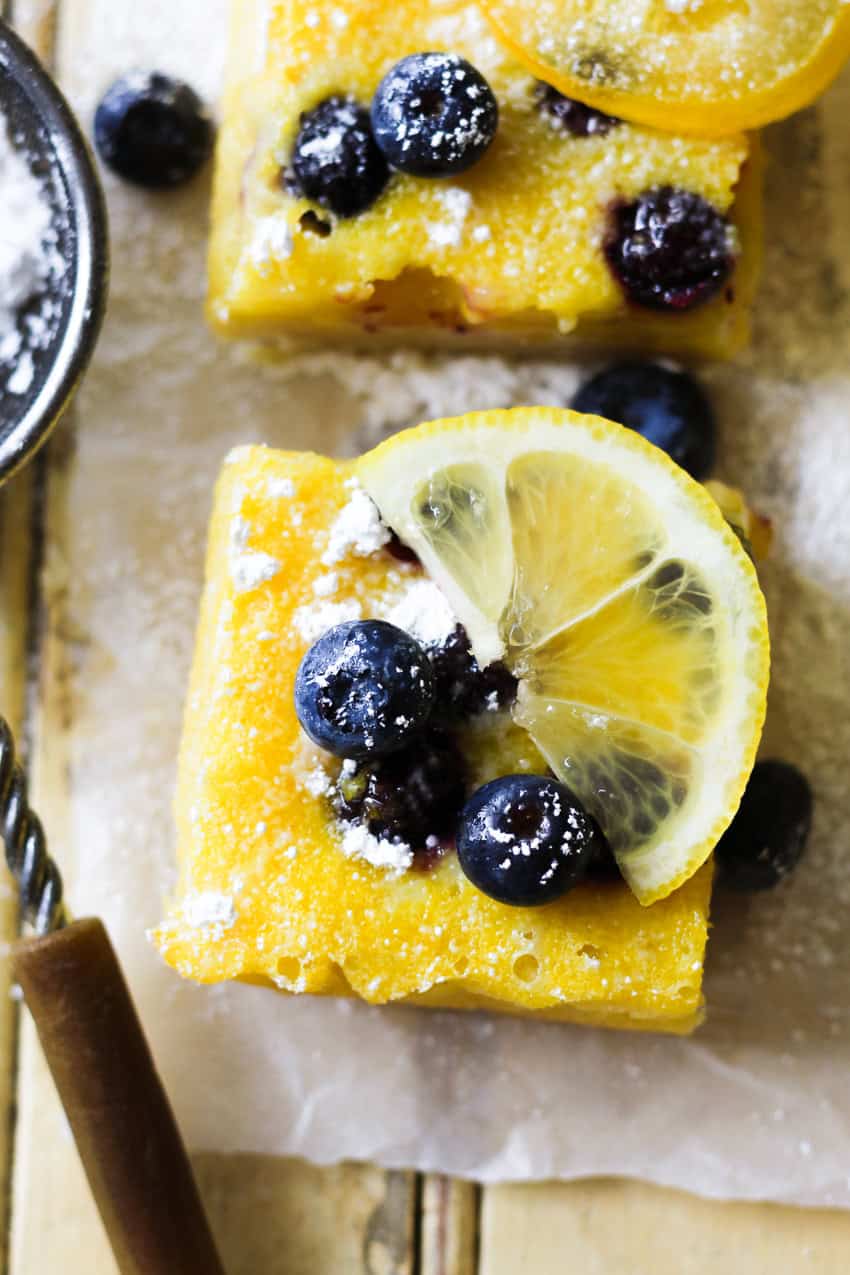 Thick Blueberry Lemon Bars
Thick and tangy blueberry lemon bars with a buttery shortbread crust, rich lemon curd filling, and fresh blueberries on the top! Simple yet delicious dessert.
Ingredients
Crust:
1 ¼

cups

flour

½

cup

powdered sugar

plus more for dusting

1

tablespoon

cornstarch

Pinch

of salt

10

tablespoons

butter

softened
Filling:
4

eggs

1 ¼

cups

granulated sugar

½

cup

lemon juice

½

cup

flour

1

cup

fresh blueberries
Instructions
Preheat oven to 350° F. Line an 8x8" square baking dish with parchment paper.

In a large bowl, mix together flour, powdered sugar, cornstarch, and salt. Using a pastry cutter, cut the butter into flour mixture until it's very crumbly (see picture above). Alternatively, you can use two forks or pulse in a food processor.

Using your hands, press the crust mixture firmly into the bottom of the parchment-lined baking dish. Bake for 12 minutes.

While the crust is baking, make the blueberry lemon filling. In a large bowl, whisk together the eggs, sugar, and lemon juice until well combined. Slowly add flour to the mixture, whisking fast to prevent clumps.

Pour the filling over the hot crust and drop blueberries evenly over the top.

Bake 25-30 minutes until the filling is set. Keep in mind, the filling will still jiggle slightly when removed from the oven, but the bars will firm up as they cool.

Let the bars sit at room temperature until cooled, then place in the refrigerator for no less than 2 hours before serving. Dust with powdered sugar and slice into 9-12 bars. If desired, top with candied lemon slices (recipe below).
Notes
Candied lemon slices:
Ingredients:
1 lemon, thinly sliced
½ cup granulated sugar
⅓ cup water
Instructions:
Combine the sugar and water in a large skillet or frying pan and bring to a boil over medium-high heat. Cook until the sugar dissolves, about 2-3 minutes. Add the lemon slices and simmer until tender and liquid has been cooked off, about 8-10 minutes. Remove slices from the pan and lay flat on parchment paper to dry for at least 2 hours. Store in a sealed container in the refrigerator.
Did you make this recipe?
I'd love to hear from you! Rate the recipe and leave a comment below or share a picture on Instagram and tag @ModernFarmhouseEats