Juicy burgers smothered in the BEST beer cheese sauce and topped with caramelized beer onions and jalapeños all on soft pretzel buns! My absolute favorite burger!! Serve with onion rings or fries and dip them in the extra beer cheese sauce.
I am seriously obsessed with these beer cheese burgers. Well, anything with beer cheese really. It's just so damn good. Beer cheese just takes a hamburger to another level, and I can't get enough. Not only do I top my burger with beer cheese, but I also dip my burger in more beer cheese!
This beer cheese is seriously the best! A while ago, Nate told me that he hates beer cheese, and per usual, I told him that he has to try mine before he sticks to that conclusion. Well, guess what, Nate LOVES my beer cheese sauce!!
It all started when I made Pretzel Pigs in a Blanket with Beer Cheese Dip, and I made him try the beer cheese. He was instantly hooked. You should see him now - he dips everything in beer cheese.
I love to serve these beer cheese burgers with fries or onion rings, and dip them in the beer cheese, too!
I also highly recommend serving the burgers on toasted pretzel buns because beer cheese + pretzel buns is a no brainer! The combination is incredible!
And don't forget the beer caramelized onions and jalapeños. They absorb the flavor of the beer and are the perfect addition! If you don't like spicy foods, you can leave out the jalapeño!
The Secret to Juicy Hamburgers.
Use 80/20 ground beef. A ratio of 80% lean protein and 20% fat is best for juicy hamburgers. The high fat content prevents the burgers from drying out while cooking and keeps them juicy. When buying meat, look for this ratio - it will be labeled on the packaging.
Make the hamburger patty larger than the bun. When shaping a burger patty, make it slightly larger than the bun, about ¾ inch thick, and put a thumb indent in the center. You want to do this for a few reasons. As burgers cook, they puff up in the center and the diameter of the burger shrinks. The combination of the thumbprint and the large patty size help to prevent this. This allows the burgers to cook more evenly, resulting in a juicer burger.
When the burger is cooking, don't smash it down. When you first drop the patty into the hot pan, you can smash it at this point to achieve your desired burger size, if desired. But after those first few seconds, don't smash the burger as it will squeeze out juices, resulting in a dry burger.
Don't overload the beef with seasoning. When making burgers, keep it simple. Salt, pepper and Worcestershire. Over mixing hamburger makes it tough.
Grill the Hamburgers or Use a Cast Iron Skillet on the Stove. When cooking burgers on the stovetop, I recommend using cast iron because it conducts heat evenly and allows you to get a nice crust on the burgers. On the stove, I like to cook my burgers in salted butter for added flavor and fat. You can also use canola oil or olive oil. You will want to use an oil or fat with a high smoke point.
Only Flip the Hamburger Once. When using cast iron, the burger patty will release from the pan once it forms a nice crust, which should take about 3-4 minutes. Once the crust is formed then flip the patty.
Use a Meat Thermometer. The key to juicy, tender meat, including burgers, is to use a meat thermometer. This will ensure that you don't overcook and dry out the meat.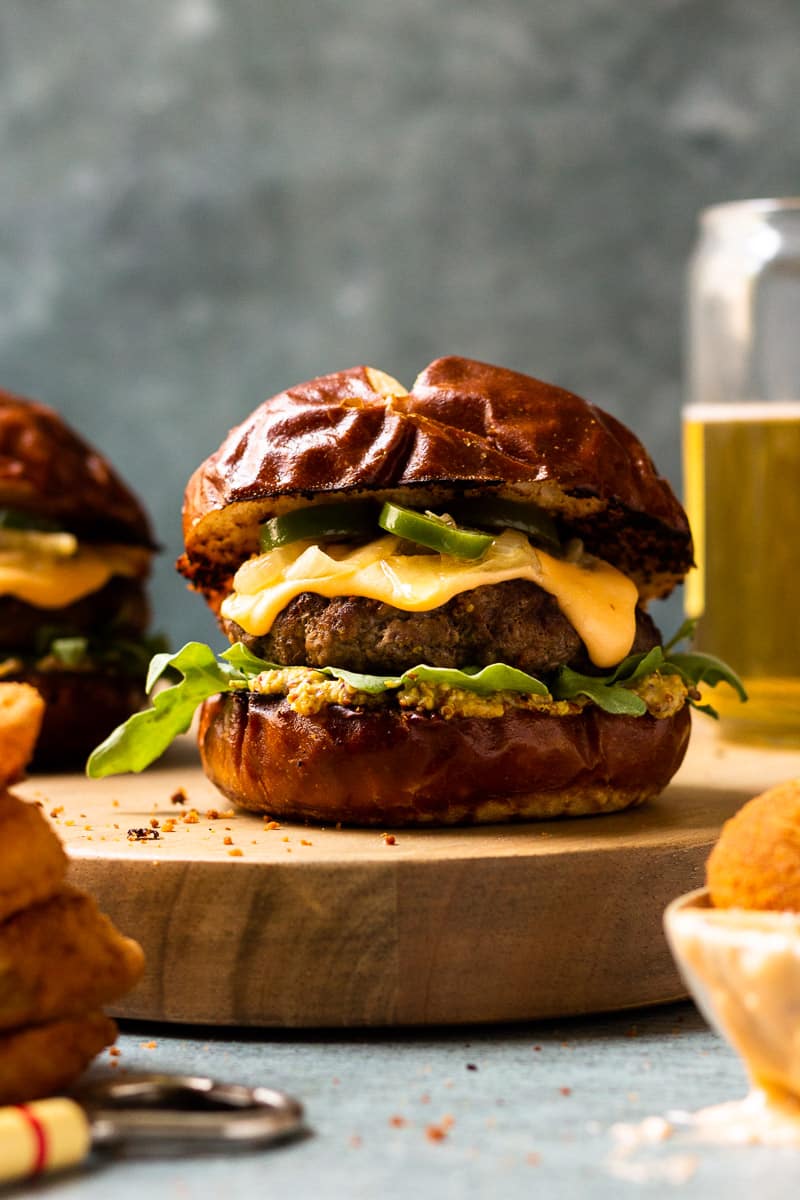 How Long to Cook a Hamburger.
When cooking a hamburger, here are approximate times:
Rare: 6 minutes
Medium Rare: 7 minutes
Medium: 8 minutes
Medium Well: 9 minutes
Well Done: 10 minutes
If using a meat thermometer, here are the temperatures:
Rare: 120-125 degrees F.
Medium Rare: 130-135 degrees F.
Medium: 140-145 degrees F.
Medium Well: 150-155 degrees F.
Well Done: 160-165 degrees F.
BEST Beer Cheese Sauce.
This beer cheese sauce really is the BEST!! It's so creamy, cheesy and flavorful!!
My secret ingredient? Cream cheese! It's creates the best, smooth texture. I've tried making beer cheese without cream cheese, and it just isn't as good.
I also add lots of sharp cheddar cheese and a little squeeze of dijon mustard to amp up the flavor. The combination is unreal!
Best Beer for Beer Cheese Sauce.
When it comes to beer cheese, you want to choose a beer that is on the lighter side so the flavor of the beer doesn't overpower the flavor of the cheese. So, I opt for a light lager or a pale ale. If you use a dark beer, it will definitely intensify the beer flavor, so choose accordingly.
I typically use Busch Light or New Glarus Spotted Cow because I often have both in the fridge.
Is There Alcohol in Beer Cheese Sauce?
The short answer, yes.
This beer cheese recipe calls for ¾ cup of beer, and although the sauce boils for a couple minutes, it may not boil off all the alcohol. So keep that in mind when it comes to children and pregnant women.
If alcohol is an issue, simply replace the beer with chicken broth, creating a traditional cheese sauce. It will still taste great!
Tips & Substitutions.
Is there a substitute I can use in place of beer? Yes, most certainly! You can broth or stock in place of beer - I recommend chicken broth.
Can you make the beer cheese ahead of time? Yes - it reheats well! The beer cheese can be made ahead of time, covered and stored in the refrigerator until you're ready to use it. The beer cheese can be reheated in the microwave or in a pot on the stove. If you reheat the beer cheese on the stove, make sure you're stirring frequently.
Can you make the caramelized beer onions and jalapeños ahead of time? Sure can! Cook them as the recipe states, then store covered in the fridge until you're to use them. Reheat in a saucepan with a little butter or in the microwave.
Shred your own cheese. Pre-shredded cheese is covered in an anti-caking agent called cellulose to prevent the cheese from sticking together. Cellulose makes it a little more difficult when it comes to melting cheese. So, when a recipe calls for shredded cheese, I always recommend that you buy a block of cheese and shred your own - it melts nicer and tastes better.
Substitute for pretzel buns. If you can't find pretzel buns or don't like pretzel buns, I recommend brioche buns. You want a bun that is thick but soft and can hold up to all the beer cheese!
Beer Cheese Burgers on Pretzel Buns with Caramelized Beer Onions and Jalapeños
Juicy burgers smothered in the BEST beer cheese sauce and topped with caramelized beer onions and jalapeños all on soft pretzel buns! My absolute favorite burger!! Serve with onion rings or fries and dip them in the extra beer cheese sauce.
Ingredients
Caramelized beer onions and jalapeños:
3

tablespoons

butter

1

yellow onion, thinly sliced

1-2

jalapeños, thinly sliced

½

cup

beer
Beer cheese:
2

tablespoons

butter

2

tablespoons

flour

¼

cup

milk

¾

cup

light beer

2

ounces

cream cheese

1

teaspoon

dijon mustard

¼

teaspoon

salt

pinch of pepper

1 ½

cups

sharp cheddar cheese, shredded
Burgers:
1

lb

ground beef

salt

black pepper

Butter, softened

4

pretzel buns
For serving:
dijon mustard

Arugula

(or your preferred lettuce)
Instructions
Caramelized onions and jalapeños:
Melt the butter in a large skillet on medium heat. Add the onions and jalapenos and cover with a lid. Cook, stirring occasionally, until onions and jalapenos are soft and beginning to caramelize, about 10 minutes.

Pour in the beer and continue to cook on medium until the beer is completely cooked down, about 10 minutes. Once done, cover to keep warm. Make the beer cheese while the onions and jalapenos finish cooking.
Beer cheese:
Melt the butter in a medium saucepan over medium heat. Whisk in the flour and let cook for 1 minute.

Pour in the milk and beer while whisking to combine. Continue whisking while mixture thickens, about 1-2 minutes.

Add in cream cheese, dijon mustard, salt and peper; whisk until the cream cheese is melted.

Remove from heat and whisk in the cheddar cheese until metled. Cover to keep warm.
Burgers:
Toast the buns: Spread butter on the cut side of each top and bottom bun. Place butter side down in a skillet over medium-high heat and toast until the surface is golden brown, about 1-3 minutes. Set aside.

Form the ground beef into 4 buger patties. Season generously with salt and pepper.

Stovetop: Melt ½ tablespoon of butter in skillet over medium-hight heat. Once the skillet is hot, add burgers (working in batches, if needed) and cook until desired doneness, about 3-5 minutes on each side. Grill: Heat grill to medium-high and lightly grease the grate. Cook the burgers 3-5 minutes on each side, or until desired doneness.
Serve:
Spread the bottom toasted buns with dijon mustard then top with arugula. Add the burgers, beer cheese sauce and caramalized beer onions and jalapenos.
Notes
Suggested side: Crispy fries or onion rings smothered in beer cheese!
Tip: I recommend you buy a block of sharp cheddar and grate it yourself. The flavor is better and it melts easier than pre-shredded cheese. 
Did you make this recipe?
I'd love to hear from you! Rate the recipe and leave a comment below or share a picture on Instagram and tag @ModernFarmhouseEats