The best French onion dip made completely from scratch! This easy dip is a serious crowd pleaser, full of flavor and perfect for any party! Serve with your favorite chips, vegetables or smothered on burgers.
If you follow along on my Instagram stories then you know how much I LOVE this French onion dip! I've walked through the steps on how to make the dip… and just talked about how obsessed I am with it. But, all for good reason!
Since I was a kid, French onion dip has always been one of my absolute favorites, probably because we always had it in the house. My mom would buy a container of sour cream and mix in a packet of Lipton Onion Soup Mix – it never lasted long. We preferred this over buying the premixed onion dip because it has more flavor.
This Homemade French Onion Dip is as close to the same flavors as the dip I ate as a kid, but BETTER because it's made with real and fresh ingredients. And the flavor is unbeatable.
But, what really makes this dip taste so good is the addition of soy sauce and Worcestershire sauce. It may sound a little odd, but trust me it's not! Also, for a fun fact, soy sauce is actually listed as one of the ingredients in Lipton Onion Soup Mix! So, I'd say it's quite fitting that it's also an ingredient in this homemade version.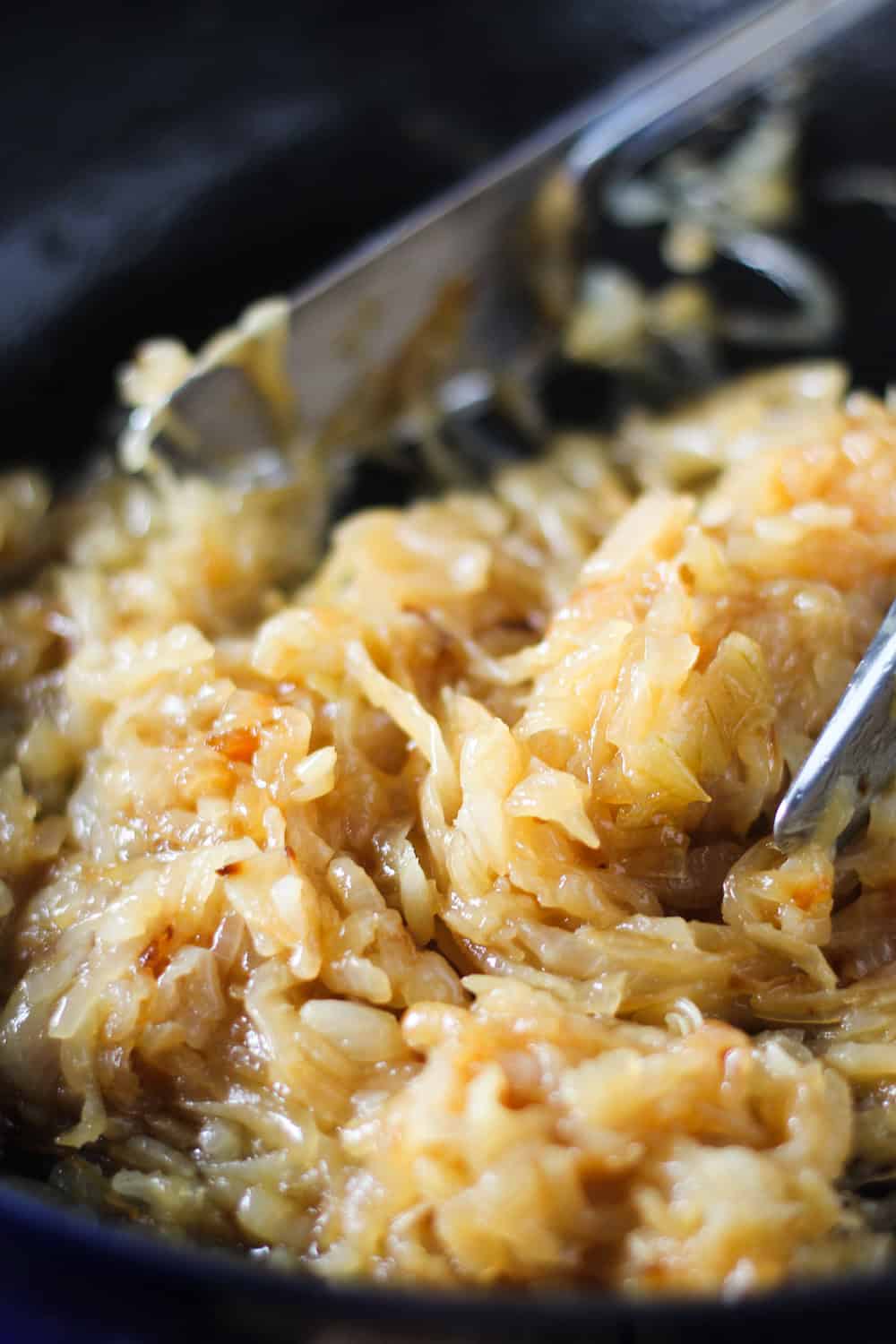 Please keep in mind that even though it may take a little time to caramelize the onions, that doesn't mean that this dip isn't super easy to make. Once the onions are ready, all you do is mix everything together. To do this, I like to use a handheld electric mixer, because otherwise the cream cheese can be clumpy if you do it by hand. But, hey, if you're stronger than me or don't have an electric mixer, then have at it with a whisk 🙂
Also, I just wanted to add a little note about the fresh parsley. I personally don't think parsley has a lot of flavor, but I like to garnish the dip with it sometimes to make it look more appealing 🙂
So, if you don't have fresh parsley on hand or don't feel like buying it, the dip will be completely fine without it and will still taste extremely delicious!
Lastly, before serving the dip, I like to place it in the refrigerator to cool down a bit. I just prefer it cold, but it can also be eaten right after it's made. All about personal preference.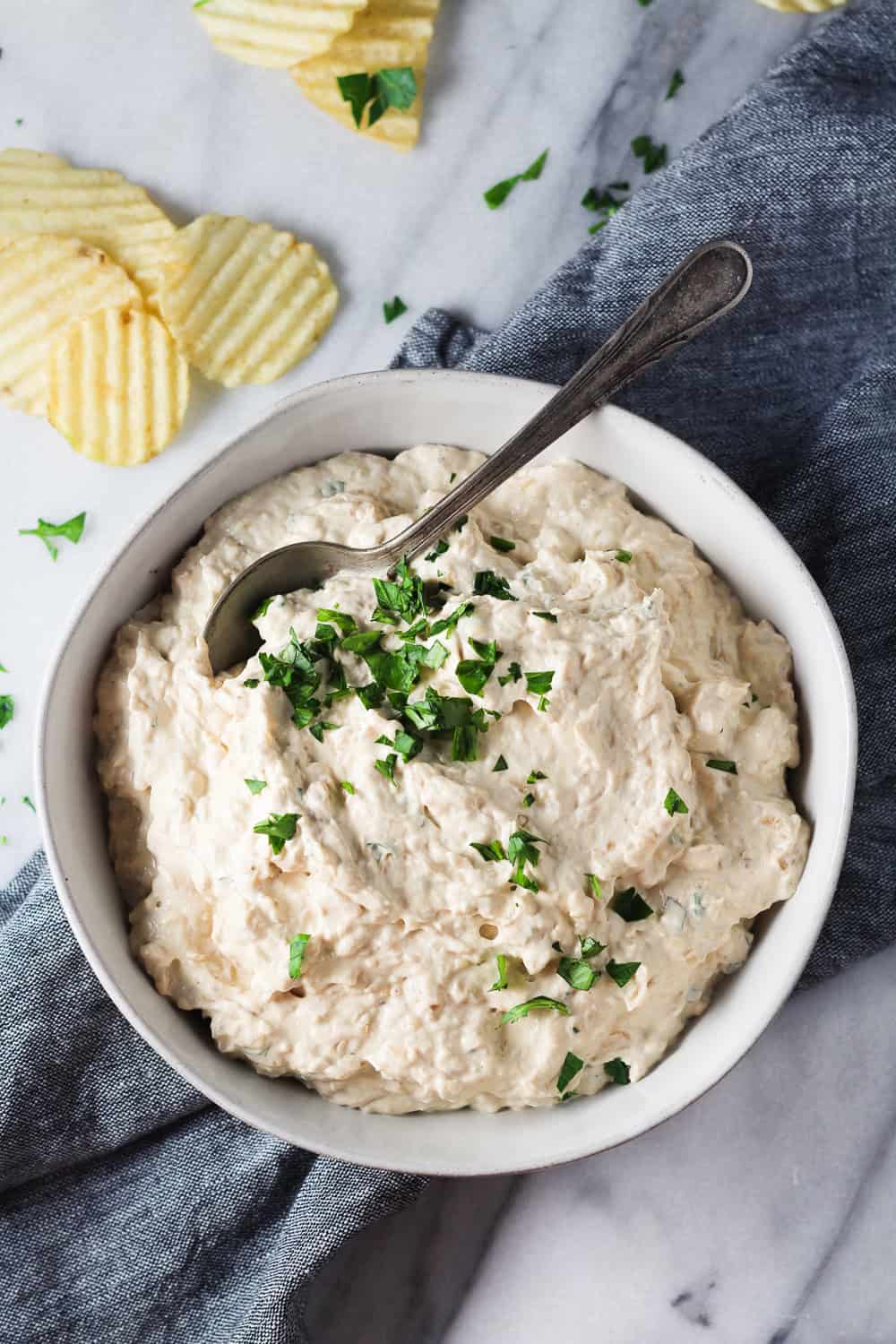 And when it comes to personal preference about the appropriate occasions for the dip, I say all occasions! It's honestly fitting for all seasons, but I particularly think it'd be perfect for a summer BBQ or party. Everyone that I've shared the dip with LOVES it, especially my family. Go figure.
Also, trust me when I say, one batch is plenty for a small party. But, any more than 15 people, and I'd consider doubling the batch.
And, if you haven't noticed from all the pictures, my favorite way to serve the dip is most definitely with potato chips. Ripples to be exact because they're nice and sturdy and this is a thick dip. I've also dipped sliced bell peppers and carrots in the dip, and it's a delicious, healthier alternative!
I also think it would be so good smothered on a burger, so that's on my list of things to eat with the dip next!
Anyways, this Homemade French Onion Dip is a MUST MAKE. Completely serious. I crave it all the time.
Homemade French Onion Dip
The best French onion dip made completely from scratch! This easy dip is a serious crowd pleaser, full of flavor and perfect for any party! Serve with your favorite chips, vegetables or smothered on burgers.
Ingredients
3

yellow onions

medium size, diced

3

tablespoons

butter

1

teaspoon

salt

1

teaspoon

sugar

⅓

cup

white wine

16

ounces

sour cream

8

ounces

cream cheese

softened

2

tablespoons

soy sauce

1

tablespoon

Worcestershire

Fresh parsley

finely chopped, for garnishing (optional)

Potato chips for serving
Instructions
In a large skillet or frying pan, melt butter over medium-high heat. Add diced onions and sprinkle with salt and sugar. Cook for 15 minutes, stirring often. If they start to burn, reduce heat to medium. Pour the wine over the onions in 3 parts. Let it sizzle and cookout each time before pouring in more, and stir in-between. Cook for another 30 minutes until onions are soft and a rich golden brown color.

While the onions are cooking, add sour cream, cream cheese, soy sauce, and Worcestershire to a large bowl. Using a handheld electric mixer, mix the dip together on medium-high until smooth, about 1-2 minutes. Once onions are finished cooking, mix them in. Garnish with parsley (optional - just makes it look pretty).

Chill in the refrigerator until cold and serve with your favorite potato chips! I like ripples because they're sturdy.
Notes
Instead of slicing the onions, you can alternatively dice them prior to caramelizing. I've done it both ways.
The wine I used was pinot grigio, but any white wine will do. It's simply to keep the onions from drying out. Alternatively, you can use chicken or vegetable broth. 
Did you make this recipe?
I'd love to hear from you! Rate the recipe and leave a comment below or share a picture on Instagram and tag @ModernFarmhouseEats
Recipe adapted from Carmalized Onion Dip on Pinch of Yum.