Dirty Chai White Russian is a soul-warming holiday drink everyone will love. Classic White Russian spiced up with homemade coffee and chai syrup.
White Russians are one of those sneaky drinks. They're loaded with alcohol, but you can hardly taste it. After a couple (or 1 if you're a lightweight like me), you're feeling a little buzzed. But they taste oh so good!
Derek drinks White Russians on the regular during the winter. Well, not quite, but often. So lately, he's got me into them more than usual, which I'm cool with. Especially since I've created this little gem.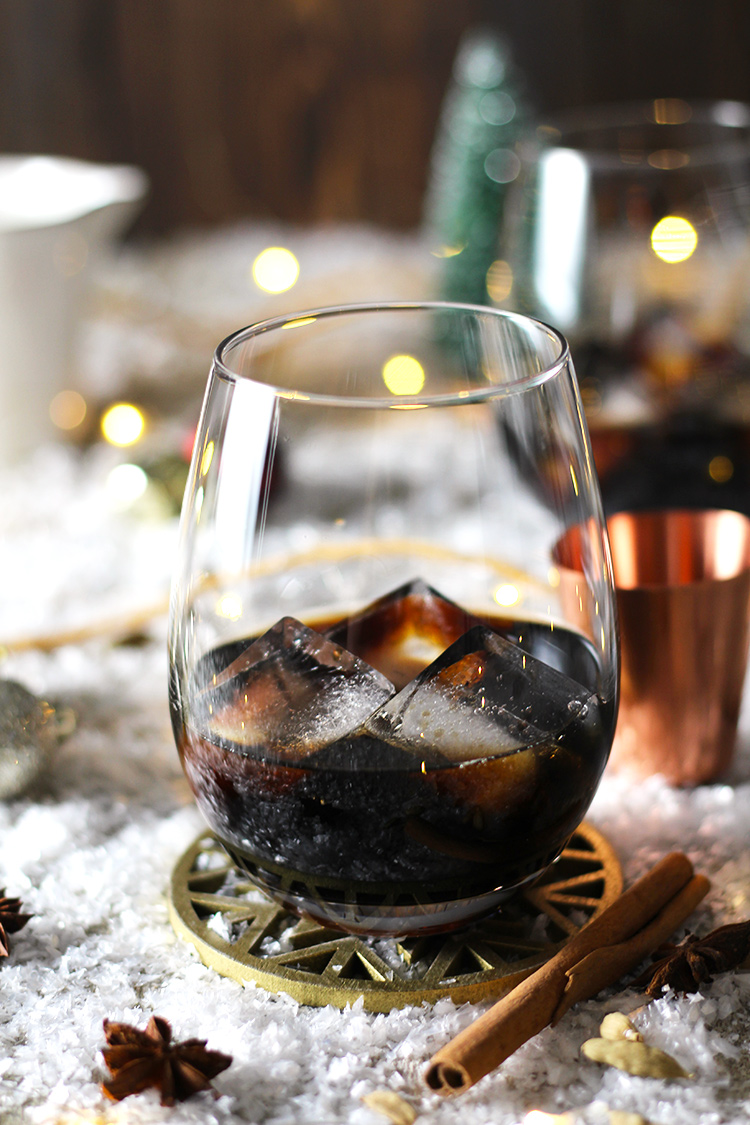 It all started when I made a couple White Russians the other weekend at the farm, and they were a little strong. We had some open Tazo Chai Tea Latte mix, and so I put a couple shots of that in the drink to slightly tone down the alcohol. So, this is always an option if you're in a pinch. It just won't be "dirty", unless you add some coffee in there as well.
But, I've taken it to another level. I decided to make my own dirty chai syrup that gets mixed right in with the Kahlua, vodka and heavy cream. The syrup is a combination of coffee, chai tea, honey and vanilla, and it is super simple to make.
I'll definitely be introducing these to my family for Christmas.
This year for Christmas, I actually get to wake up at the farm and spend the whole day with my family, well, most of them. By the way, I feel like people have different definitions of family. When I say family, I mean my immediate family, like my parents, siblings, sister-in-laws, nieces, and nephews.
We don't really celebrate holidays with my extended family much anyone. Growing up, we celebrated Thanksgiving and Christmas with my mom's family. But, as my generation started having kids, we slowly stopped celebrating holidays together. I think everyone just got more busy with their immediate families. The last gathering was probably more than 5 years ago, which makes me a little sad. I would like to get back to this because it's nice to see everyone…twice a year.
Same goes for my dad's side. Well, similar. My dad's family is HUGE. I mean huge. He has 16 siblings! P.S. I am the 50th grandchild out of 51! And, I was born the same year as my grandparent's 50th wedding anniversary. How cool is that? Anyways, I don't remember the Riesgraf's ever having a Thanksgiving party, but they have always had a Christmas party. Because the family is so big, the party has always been held at a rented party hall. Each year, a sibling is responsible for planning the party, it just keeps going down the list of siblings. So, every 17th year, it's my dad's turn. That makes me laugh. But, ever since my parents moved to Wisconsin 6 years ago, they haven't gone back to Minnesota for the party much, which in turns means, I've been slacking as well. For my parents, it becomes difficult to find someone to milk the cows for a weekend. Not too many people are familiar with that sort of thing – ya know what I mean? I would like to get back into the swing of celebrating with them, as well. New Year's resolution? Be a better family member.
Until then, I'll just keep doing me, and if you need me, I'll be sipping on a Dirty Chai White Russian.
Other festive holiday recipes:
Fudgy Peppermint Mocha Brownies
Dirty Chai White Russian
Dirty Chai White Russian is a soul-warming holiday drink everyone will love. Classic White Russian spiced up with homemade coffee and chai syrup.
Ingredients
Dirty chai syrup:
16

ounces

strongly brewed coffee (about 2 cups)

4

chai tea bags

(I used Tazo)

¼

cup

honey

(or pure maple syrup)

1

teaspoon

vanilla extract
One Dirty Chai White Russian:
3

ounces

dirty chai syrup

1 ½

ounces

Kahlua

1 ½

ounces

vodka

2

ounces

heavy cream
Instructions
To make the dirty chai syrup, add chai tea bags to the freshly brewed (and still hot) coffee. Cover and let steep for 15 minutes, then discard tea bags. Add the honey and vanilla and whisk together (warm the coffee in the microwave if it's not still hot enough to melt the honey). This makes enough dirty chai syrup for about 5 drinks.

To make one White Russian, place ice into a short glass. Add dirty chai syrup, Kahlua, vodka and heavy cream; stir together. If desired, garnish with a star anise and cinnamon stick.
Notes
*If your coffee isn't freshly brewed or really hot, heat it back up in the microwave or on the stove. If heating on the stove, be careful not to burn the coffee. 
For 1 ounce, I just used a standard shot glass.
Did you make this recipe?
I'd love to hear from you! Rate the recipe and leave a comment below or share a picture on Instagram and tag @ModernFarmhouseEats