One skillet French Onion Cheese Stuffed Meatballs are the perfect alternative to soup! Meatballs stuffed with Swiss cheese and smothered in perfectly caramelized onion and red wine gravy.
I am seriously dreaming about stuffing my face with these meatballs. I made these a few weeks ago, so I'm due for another round. Know what else I've been craving? My Honey Lime Cilantro Chicken Sheet Pan. OH, MY GOD. It's so good. It is also pretty healthy and easy to clean up. I call that a triple win.
But, let's talk about how bomb these meatballs are. I just showed John one of the pictures, and his response was, "those seriously were really good. One of my favorite recipes. Top 3 for sure." Now, that's saying something! But then he also went on to say, "Can I be honest with you? I don't like green bean casserole." I almost throw the TV remote at his head. I'm offended.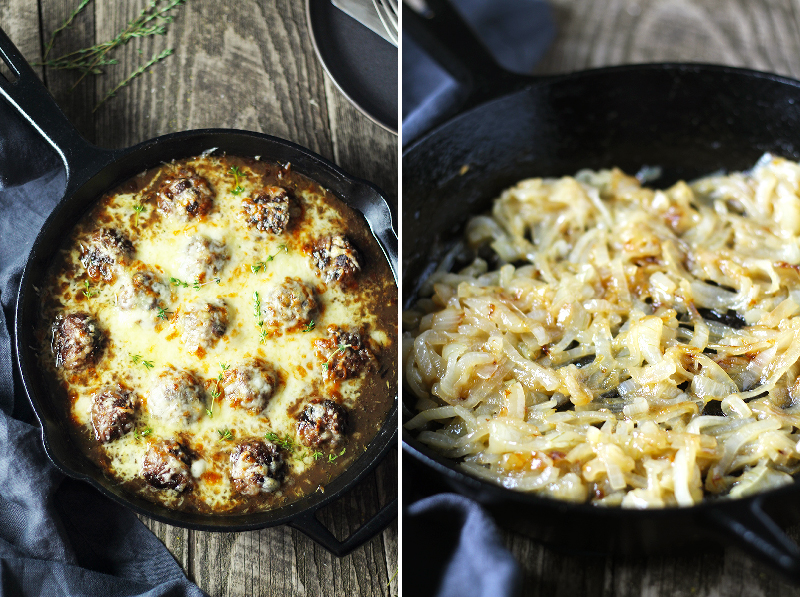 Green bean casserole and stuffing are my two favorite things on the Thanksgiving dinner table. Not only that, but I have a bomb ass Green Bean Casserole with Rosemary Parmesan Gravy recipe that I'm obsessed with. It's 100% from scratch and uses fresh green beans. It can't get any better. He did save face a little by saying, "out of all green bean casseroles, yours is actually my favorite, but it needs meat, like turkey." UGH. MEN. It's called a side dish. Check out my recipe video below for my green bean casserole, and you'll understand how great it is.
Well, you know what is full of meat? French Onion Cheese Stuffed Meatballs. Even better, this delicious meatball and gravy combination is served over mashed potatoes. Meat and potatoes always win over a guy's heart, and my heart for that matter, too.
French Onion Cheese Stuffed meatballs are just as good as they sound. It's French onion soup in meatball form. What would typically be the onion soup is now a caramelized onion and red wine gravy. Instead of French bread on the top, you've got Swiss stuffed meatballs. To keep with French onion soup tradition, even more cheese is sprinkled on top and broiled to perfection. I love to serve these meatballs with freshly mashed potatoes. It's the perfect combination.
French Onion Cheese Stuffed Meatballs
One skillet French Onion Cheese Stuffed Meatballs is a savory and flavorful twist on French onion soup! Juicy meatballs stuffed with gruyere cheese and smothered in a caramelized onion and red wine gravy and topped with golden and crispy cheese. Serve over mashed potatoes or pasta for a hearty and delicious dinner.
Ingredients
Meatballs:
1

pound

ground beef

¼

cup

breadcrumbs

1

egg

1

teaspoon

onion powder

½

teaspoon

salt

½

teaspoon

black pepper

2

ounces

provolone cheese

cut into ½ inch cubes (16 pieces)

1

tablespoon

frying oil
Gravy:
4

tablespoons

butter, divided

2

yellow onions

halved and thinly sliced

½

teaspoon

sugar

¼

cup

white wine

(can substitute chicken broth)

1

garlic clove, minced

¼

cup

flour

2

cups

beef broth

¼

cup

red wine

(can substitute more beef broth)

½

teaspoon

Worcestershire sauce

½

teaspoon

salt

½

teaspoon

black pepper
Finishing touches:
1

cup

gruyere or swiss cheese

shredded

½

cup

provolone cheese

shredded

½

cup

parmesan cheese

shredded

Fresh thyme for garnishing

optional

Mashed potatoes or pasta for serving
Instructions
Add ground beef, breadcrumbs, egg, onion powder, salt, and pepper to a small bowl and mix together. Roll beef mixture into 12-16 golf ball-size meatballs and stuff each meatball with one cube of cheese; roll around in your hands to seal it up. If the meatballs become warm they won't hold together as nicely while cooking. If that happens, cover the meatballs and place them in the refrigerator for an hour (or briefly in the freezer) before frying.

Heat a large oven-safe skillet over medium heat with oil. Place the meatballs in the skillet and cook for about 8-10 minutes, turning a few times until the meatballs are mostly cooked through. The meatballs will cook more in the gravy. Once done, transfer the meatballs to a plate and cover to keep warm.

Melt 2 tablespoons butter in the skillet over medium heat. Add sliced onions and sugar and cook for 10 minutes, stirring occasionally. Add white wine to deglaze the skillet, scraping browned bits on the bottom. Cook for another 10-15 minutes until onions are caramelized.

Turn to medium-high heat and add garlic and 2 more tablespoons of butter to the skillet with the onions; cook for one minute. Add flour and mix into onions; let cook for another minute. Slowly add beef broth to the skillet, mixing and scraping browned bits on the bottom of the skillet. Bring to a boil to thicken the gravy, about 2 minutes.

Reduce heat to medium-low. Stir in the red wine, Worcestershire, salt, and pepper. Return meatballs to the skillet, cover and cook for about 10 minutes, or until meatballs are cooked through. Remove from heat.

Remove the lid and sprinkle with gruyere (or swiss), provolone, and parmesan cheese. Set the oven to low broil and place the skillet in the oven on the top rack. Broil for 2-3 minutes or until the cheese is melted and slightly golden (watch closely so the cheese doesn't burn).

Garnish with fresh thyme and serve warm over mashed potatoes or pasta.
Notes
If you don't have an oven-safe skillet, use a large frying pan with tall sides, and before you cover the meatballs with cheese and broil in the oven (step 6), transfer the meatballs and gravy to an oven-safe baking dish. Alternatively, you can skip broiling in the oven. Instead, add the cheese over the meatballs, cover, and cook on the stove for an additional 5 minutes or so until the cheese is melted. But, I highly recommend using the broiler because golden, crispy cheese is amazing!
Did you make this recipe?
I'd love to hear from you! Rate the recipe and leave a comment below or share a picture on Instagram and tag @ModernFarmhouseEats