Hearty, easy-to-make Five Pepper Beer Chili with a kick! Made with a full can of beer and homemade chili seasoning, loaded with five types of peppers from sweet to spicy, and packed with four types of beans and ground beef. This chili is a spicy one, but can be adjusted to taste!
I came out to the farm this past weekend, and I'll be here for about a week. Doing the usual, working and hanging.
Over the weekend, I spent a lot of time with my family, as usual. On Saturday, Bre and Eli hung with my mom and me, while Kelby helped Derek and my dad put up a temporary exterior wall on the barn because it's currently under construction. Derek and my dad are in the process of building a new double 15 swing milking parlor. So basically there's the pit where we stand, and the cows stand up above on platforms that hang slightly over the pit. The platforms are about chest level on both sides of the pit, and 15 cows can fit on each side at one time. 16 milkers hang down the center of the pit that swing from side to side to milk each cow. Hence the name swing parlor.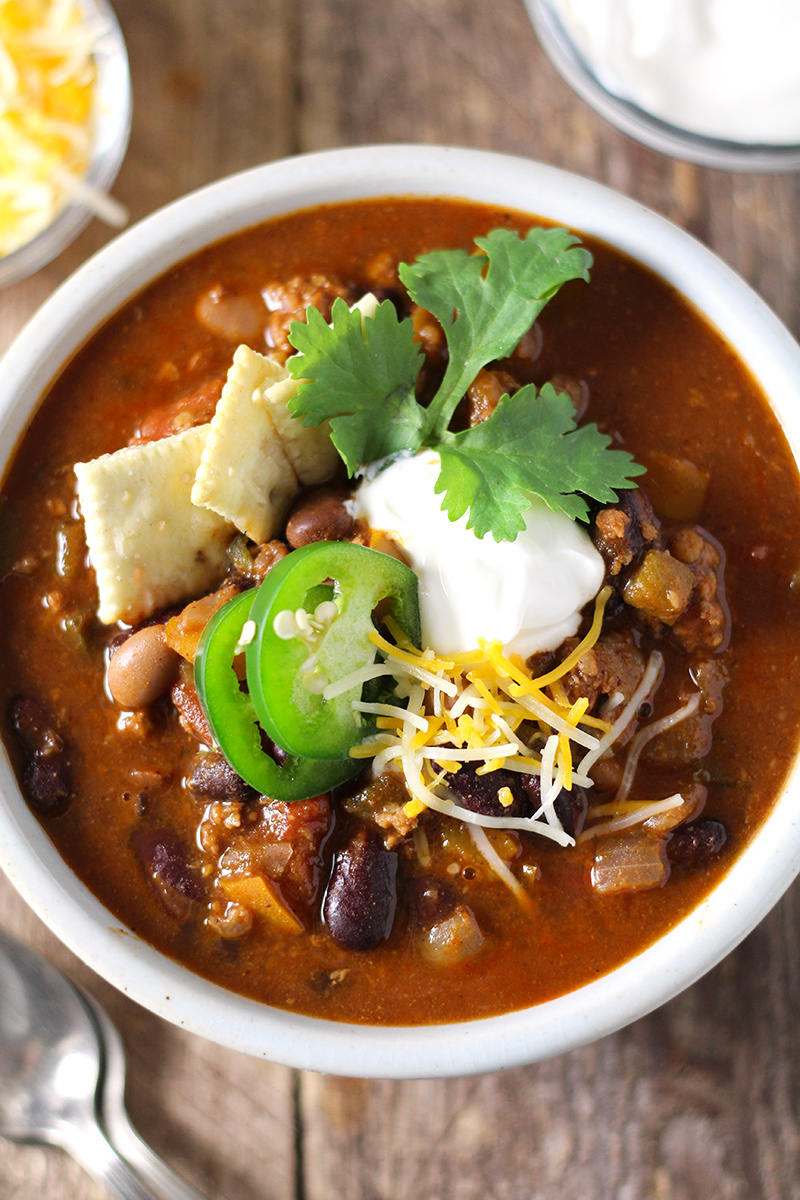 While the guys did some sketchy shit to put up the wall, Bre, my mom and I chatted, watched Eli walk all over the place (he's just getting the hang of things) and made sugar cakes for our bees as requested by Derek. Sugar cakes are basically a cooked down sugar and water mixture with some "Honey B Healthy" feeding stimulant with essential oils. Once the mixture is cooked, you pour it onto sheet pans to cool and slice into squares – they are about the texture of fudge. Throughout the winter, you put sugar cakes in their hive in an attempt to keep them fed and alive. One sugar cake is supposed to last 3 weeks.
On Sunday, the whole family was over to watch the Vikings kick butt and the Packers eat sh*t for the second week in a row. Mom made the best biscuits and gravy (as always), the kids decorated cupcakes and caramel apples, and we all played some games. Does it get any better?
And if you follow me on Instagram (@modernfarmhouseeats) and watch my stories then you already know what happened to a good amount of the cupcakes. My fur niece Khloe decided to steal the plate off the counter and eat about 6 chocolate cupcakes, including the paper baking cups. Oh, and I also found a half-eaten stick of butter on the ground. I honestly think she got full and couldn't finish the butter – that's saying something for her.
And in other news, another litter of piglets was born the other night. They are beyond cute, and so tiny. And, you can also find them on my Instagram story. In total there are probably close to 25 baby pigs running around on the farm right now, and I literally mean running around. They are free to roam wherever the hell they want. The moms are in a pen, but the little ones are so small that it's hard to keep them in. Plus, it really doesn't matter because they are scaredy cats – they don't wander far and if they do, they run right back to their moms when anybody or anything comes near.
So yeah, that's what's happening in my neck of the woods (channeling my inner Al Roker). Hope you all enjoyed what was probably one of the last warm weekends around here!
Oh, and speak of cold weather coming. This chili is sure to warm you right up! Made with 5 types of peppers, it packs some good heat. It also has the perfect ratio of beef and beans, and just the right amount of beer, beef stock, and tomatoes. I've been making my chili like this for a long time now, but this recipe is a twist on the classic. The peppers were a special request from John because he's obsessed with all things spicy. But, I'll give it to him, this chili is soo yummy! Keep in mind, this chili can get really spicy, so make sure you adjust the heat as necessary! See the notes section.
To keep you stocked with cold weather soup recipes, I also highly recommend my mom's Creamy Smoked Ham and Bean Soup! It's a must make.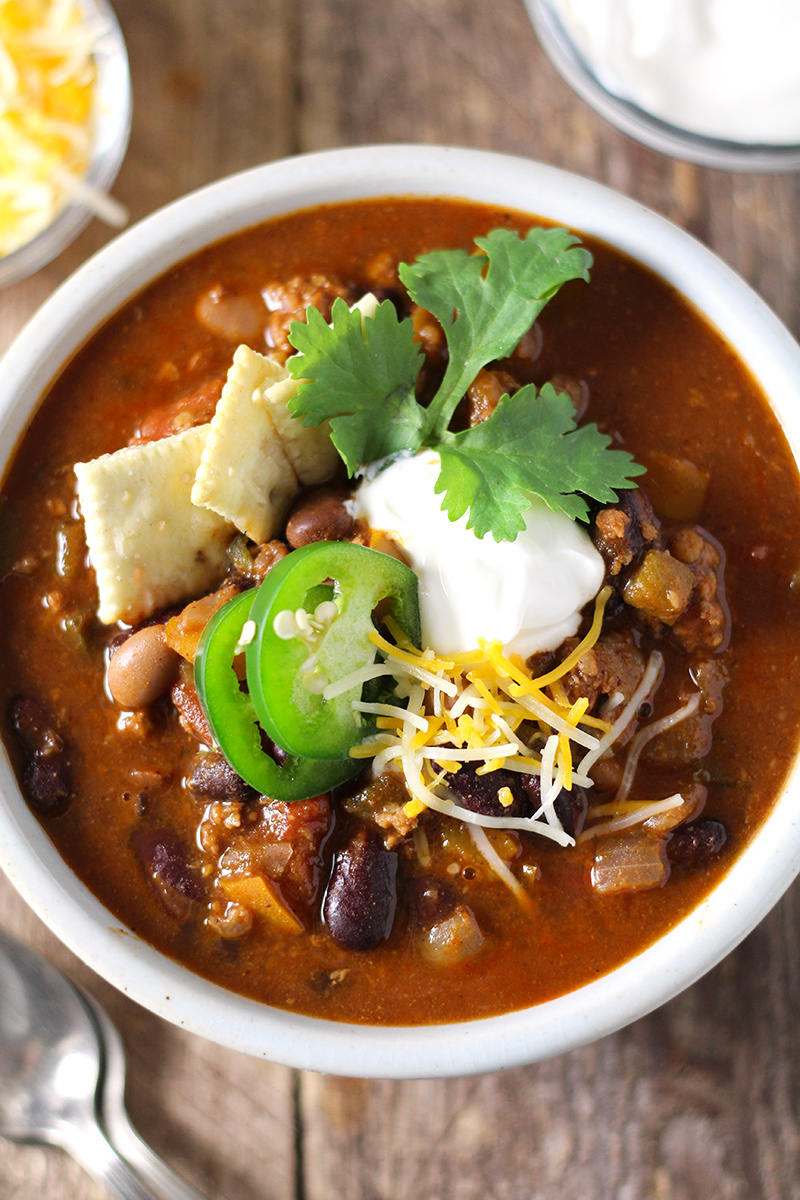 Five Pepper Beer Chili
Hearty, easy-to-make chili with a kick! Made with a full can of beer and homemade chili seasoning, loaded with five types of peppers from sweet to spicy, and packed with four types of beans and ground beef.
Ingredients
4

tablespoons

olive oil

2

anaheim peppers

2

poblano peppers

2

bell peppers

1-2

jalapeño peppers

optional

1-2

habanero peppers

optional

1

yellow onion

1

lb.

ground beef

¼

cup

tomato paste

1 12

oz.

can beer

1 ½

cups

beef stock

1

can tomato sauce

15 oz.

1

can diced tomatoes

15 oz.

1

beef bouillon cube

1

can chili beans in sauce

15 oz.

1

can red kidney beans

15 oz.

1

can pinto beans

15 oz.

1

can black beans

15 oz.
Chili Seasoning:
1 ½

tablespoons

chili powder

1

teaspoon

cumin

¼

teaspoon

cayenne pepper

½

teaspoon

garlic powder

½

teaspoon

paprika

1

teaspoon

salt

1

teaspoon

black pepper

½

tablespoon

flour
Instructions
Remove seeds and membranes from anaheim peppers, poblano peppers, bell peppers, 1 jalapeño pepper (optional), and 1 habanero pepper (optional). Dice peppers and onion. If you like more spice, you can also dice up a second jalapeño and habanero - leave the seeds in if you like it really spicy. (*Note: This chili can become pretty spicy. See the notes section on how to adjust the level of spice).

Heat oil in a stockpot over medium-high heat. Add diced peppers and onion, and cook for 10 minutes, stirring occasionally.

Add ground beef to pot and cook for 7-10 minutes, stirring often.

While beef cooks, mix together chili seasoning is a small bowl.

Once beef is done cooking, add chili seasoning to the pot and stir to combine with peppers, onions, and beef. Mix in tomato paste. Add beer, beef stock, tomato sauce, diced tomatoes, and beef bouillon cube, and mix together. Simmer covered on medium-low for about 30 minutes, stirring occasionally.

Drain liquid from all beans except the chili beans. Add beans to the pot, stir, and continue to simmer for another 15-20 minutes.

Serve with your favorite chili toppings, like sour cream, shredded cheese, and crackers!
Notes
*With two jalapeño and habanero peppers, this chili becomes pretty spicy, especially if you leave the seeds in. If you don't like your chili too spicy, I recommend that you first only add 1 jalapeño and 1 habanero with the seeds removed. Before you add the beans, taste the chili. If you then want more spice, add an additional jalapeño or habanero with or without seeds depending on how spicy you want it. It's all about taste testing. I've noticed that the longer the chili cooks, the less spicy it is. 
Or, you can skip the jalapeno and habanero peppers all together! The chili still tastes great!
Also, keep in mind that jalapeño and habanero peppers can vary in heat depending on how fresh they are.
Did you make this recipe?
I'd love to hear from you! Rate the recipe and leave a comment below or share a picture on Instagram and tag @ModernFarmhouseEats